Our Services
At Ryan's Auto Body, we have invested in state of the art equipment with sixteen talented technicians and office staff to serve you better!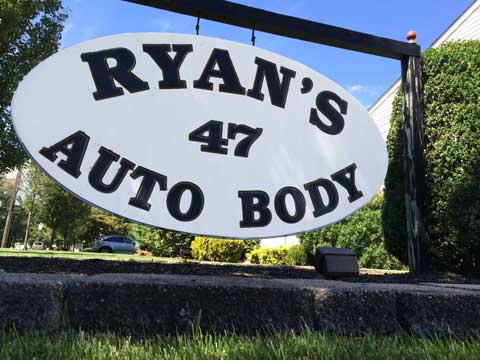 Our services include:
Towing
Free Estimates
Complete Detailing
Insurance Work
Collision Repairs & Painting

Auto and Truck Accessories Available and Installed
Dedicated Aluminum Repair Area
Computerized Estimating & Digital Imaging
We provide Computerized Estimating Utilizing CCC Pathways and ADP Computerized Estimating System and have the ability to provide Digital Imaging to assure accurate and complete estimates of repair and to support any request for supplements.
Standard Frame Department
We have made the investment frame and uni-body equipment that makes our frame department stand out among the very best available. Eight Uni-Body Frame Machines · Computerized Uni-Body Measuring System – Laser Beam Digital Sonar -Most advanced system to date · MIG Welding Equipment · TIG Welding Equipment · Spot Welding Equipment · Plasma Cutters
Mechanical Department
We have a State‑of‑the‑Art Facility consisting of a Hunter Computerized Four Wheel Alignment Rack, R‑12 & R1 34a A/C Recharging, and Recycling System. All Air Bag and ABS work is done by I‑CAR Certified Technicians. Computerized Diagnostic Testing Systems are used when needed.
Refinishing Department
We use the finest RM – Diamont Base Coat/Clear Coat and Solid Single Stage Paint Mixing System. We also have a Smart Track Two computer program with a color imaging scanner for high problem colors. This allows us to provide our customers with a factory-backed written warranty on all paintwork. The high quality of materials in combination with our ultra-modern mixing equipment and downdraft heated paint booth allows us to provide our customers with a perfectly matched factory finish every time.
Clean & Detail Department
All Vehicles are thoroughly washed prior to the paint being applied. This process ensures a dust-free condition. All vehicles are then fully cleaned and detailed prior to delivery to customers.
Towing & Storage Department
Towing Department: We use the services of Brothers Towing fully equipped to handle any type of towing and recovery and provides 24-hour towing services. To have your vehicle towed to Ryan's Auto Body contact Brothers Towing at (732) 229-3333. Storage of Damaged Vehicles: Our Storage Facility is completely fenced, lighted, alarmed and Video Monitored. Our storage area has the capability to securely store well over 75 vehicles.
Specialty & Accessory Department
We have a Specialty and Accessory Department where we offer a verity of additional services including but not limited to the following: Hand Painted Stripes, Lettering and Airbrushing all done by our on-staff artist Installation of Custom Decals, Graphics, and Stripes available, Installation of Alarms, Security Systems and Stereo Systems.
General Services
Lifetime Paint Warranty
Long Distance Towing
Free Pick-Up and Delivery of Customers Vehicles
Comfortable Customer Waiting Area
Fire, Flood, and Theft Repairs
Video and Photo Imaging
Separate Body and Paint Facilities
Comprehensive Pre-Delivery Checklist
Computerized Parts Locator Service
Rein"CAR"nation really happens at Ryan's.
For more than 35 years Ryan's Auto Body has been a certified paint and collision facility recognized by most leading manufacturers as an authorized repair center.
Our specialists are qualified to repair any make or model vehicle on the road today and will restore your automobile back to its original specifications by using the latest technology and high-quality paints. We are an I-CAR Gold Class Certified repair shop and have been recognized by the manufacturers below as a certified collision repair center.