About Us
Ryan's Auto Body in Ocean Twp., NJ is a full service and spacious 13,000 square foot working area collision repair facility with two spray booths. We recently renovated the complex and built more buildings to accommodate our customer's needs.  We are well established and have earned the reputation of excellence by providing the finest in collision repairs for well beyond twenty years. Our staff has extensive training and experience in collision repair as well as mechanical repairs. Our body and paint technicians are well trained and certified to assure our customers that component technicians trained in modern repair technology will repair their vehicles. All collision repairs performed by our facility are fully guaranteed.

Our Specialist
Our specialists are qualified to repair any make or model vehicle on the road today and will restore your automobile back to it's original specifications by using the latest technology and high-quality paints. We are an I-CAR Gold Class Certified repair shop and have been recognized by the manufactures below as a certified collision repair center.
Prepare Estimate
Our Estimator will inspect your vehicle and begin to document the damage caused by the collision in the form of an estimate. In some cases, you may already have a preliminary estimate of this damage prepared by your insurance company. In any event, this step must be accomplished prior to beginning the repair process
Repair Authorization
Before any work can begin, you must first sign a repair authorization allowing us to repair your vehicle. At this time it is not unusual for our Estimator to request another signature in advance to cover any additional damage that may be found once the repair is underway.
Insurance Approval
The insurance company that is involved must also approve the repair estimate before we can begin work.
Parts Ordered
Upon receiving approvals from you and the insurance company, we will begin the process of locating and ordering the parts necessary to repair your vehicle.
Parts Received
Once all of the parts are received and accounted for, we can schedule your vehicle for repair.
Scheduled for Repairs
We can now contact you to schedule a convenient time for your vehicle to be repaired. In some cases, your vehicle may already be at our Repair Center, in which case it will be available for immediate repair.
Dissembled and Re-inspected
As your vehicle's outer panels are removed and the physical structure of the vehicle is revealed, often additional or "hidden damage" is discovered. This additional damage is difficult to diagnose at the time of the original estimate as it cannot be seen or predicted until we perform this thorough inspection. Please note that any additional damage may alter your vehicle completion date.
Supplement Approved
The insurance company must authorize this additional damage before we can continue the repair.
Additional Parts Ordered
Should we find additional damage, we will need to repeat steps 2, 3 & 4. For this reason, our Estimator may have asked you to sign an authorization document in advancer to cover these additional repairs. Please note that this additional damage may alter your vehicle's completion date.
Unibody Repair
Your vehicle was manufactured in compliance with tight structural standards. The exact location and fit of integral parts are critical to the operation and appearance of your vehicle. In this process, we measure your vehicle against published factory specification and return your vehicle to within the manufacture's prescribed tolerance to ensure proper operation, location, and fit of body and structural parts.
Structural and Body Repairs
Our Repair Technicians will now undertake structural and body repairs.
New Panels Installed
All collision-related repairs require some degree of cosmetic repair and often require replacement of factory panels. We will check for proper fit here and ensure your vehicle's parts look, fit, and align the way they should.
Corrosion Protection
Most of today's vehicles incorporate some of the corrosion protection applied by the original manufacturer. We will reapply this protection to ensure that your vehicle conforms to the original manufacturer's standards.
Metal Work Done
It is at this point in the repair that we begin to check systems for proper functioning and perform quality control of the repair work. An example of a systems check would be the resetting of your safety systems, involving your passive restraint or airbag system.
Prepped, Primed and Blocked
Our technicians will begin the refinish process by applying a primer. A surface filler is sprayed on to ensure a quality, uniform, and smooth surface. Block sending is the method of further preparing the surface of your vehicle for paint.
Paint Booth
To ensure that the highest quality standards are met, we carefully mask your vehicle to protect it from overspray during the refinishing process. Only the area that needs to be refinished is left uncovered. We then place your vehicle in a controlled atmosphere called a paint booth, where paint material is applied.
Chemically Cleaned and Tacked
This process removes all outside contaminants that may have been deposited on your vehicle during the repair process. Tacking the vehicle then removes any dust particles that may remain.
Refinishing Process
Most of today's vehicles are coated with what is known as a basecoat/clearcoat refinish system. Sometimes a single-stage system is used. In any event, all systems involve several application steps to ensure a quality finish. We will only use refinish products that meet or exceed the original manufacturer's specifications and are backed by a lifetime paint performance guarantee.
Final Inspection/Test Drive
Once your vehicle has gone through the refinish process we then reattach the other parts such as mirrors, moldings, and other hardware. Should you repair require a wheel alignment or services such as air conditioning repair, we will perform them at this time. Your car will undergo a thorough cleaning, test drive, and quality inspection prior to being returned to you.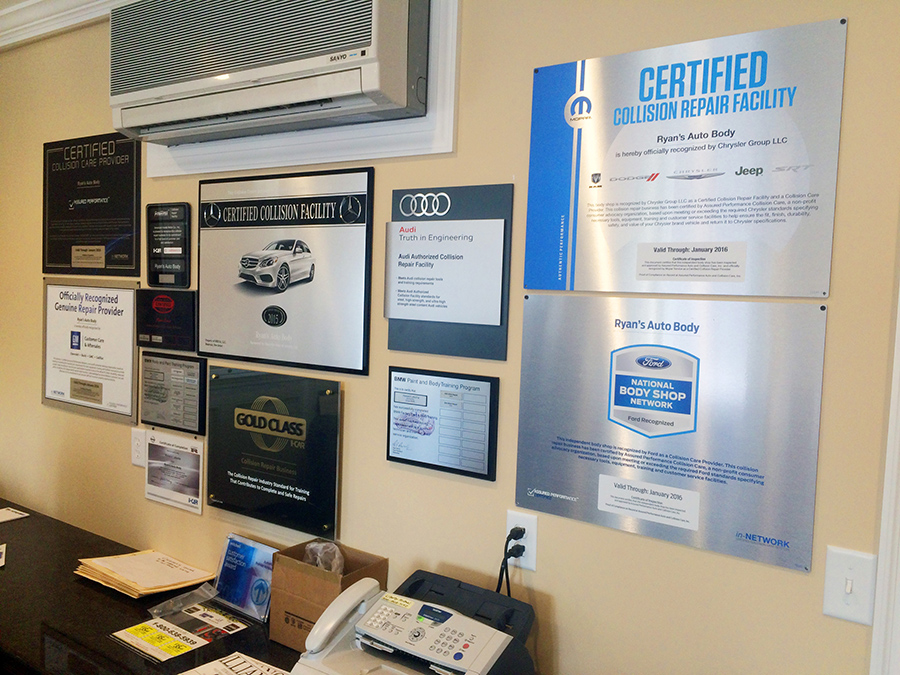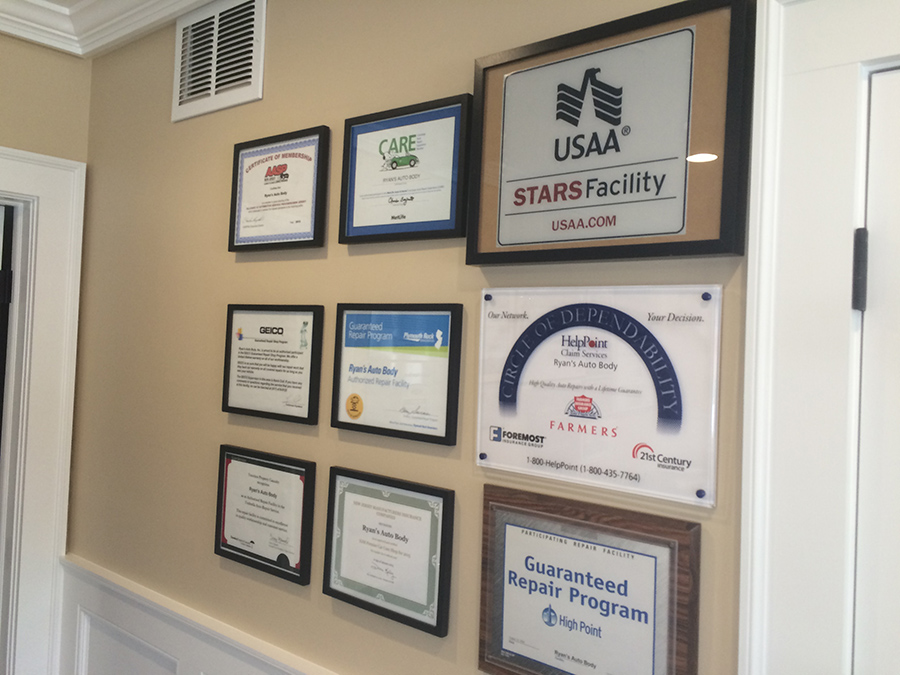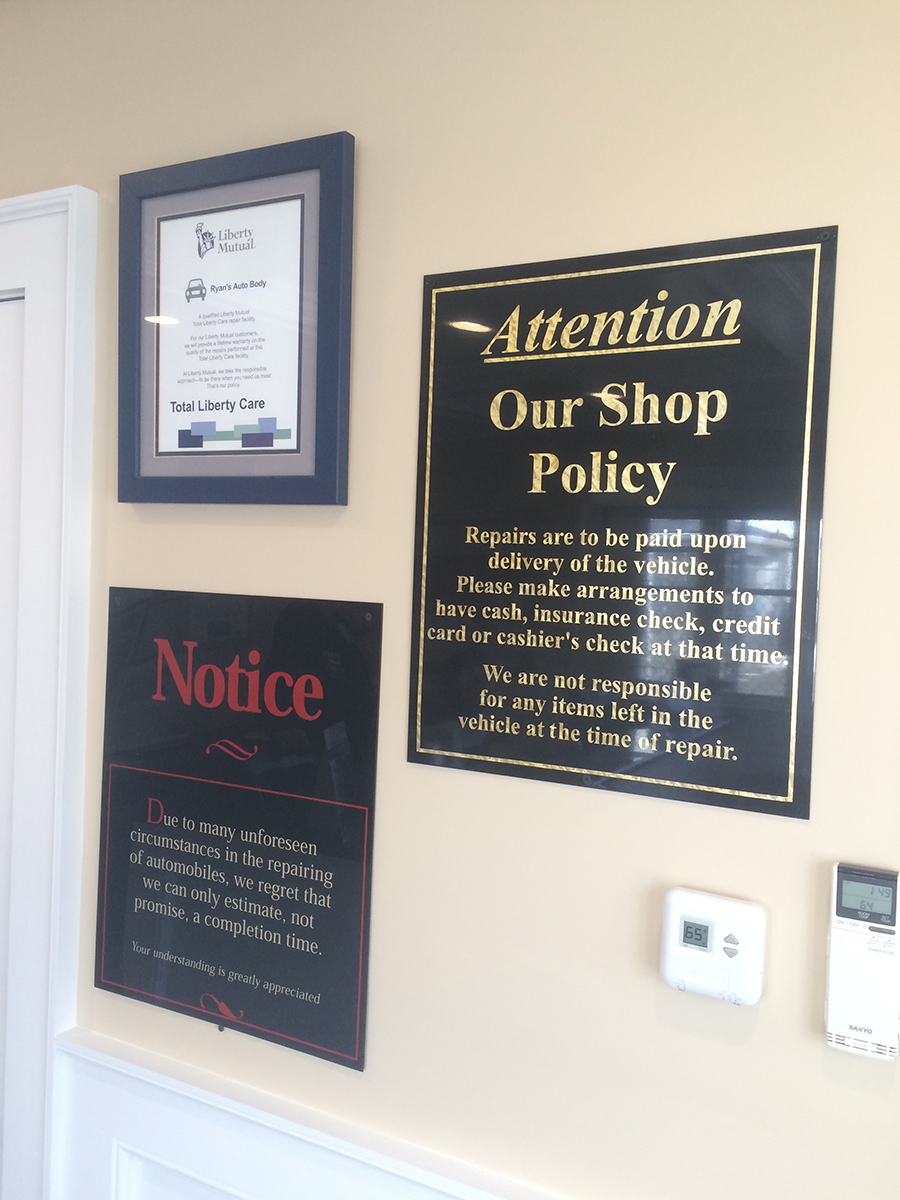 General Services
Lifetime Paint Warranty
Long Distance Towing
Free Pick-Up and Delivery of Customers Vehicles
Comfortable Customer Waiting Area
Fire, Flood, and Theft Repairs
Video and Photo Imaging
Separate Body and Paint Facilities
Comprehensive Pre-Delivery Checklist
Computerized Parts Locator Service
Rein"CAR"nation really happens at Ryan's.
For more than 35 years Ryan's Auto Body has been a certified paint and collision facility recognized by most leading manufacturers as an authorized repair center.
Our specialists are qualified to repair any make or model vehicle on the road today and will restore your automobile back to its original specifications by using the latest technology and high-quality paints. We are an I-CAR Gold Class Certified repair shop and have been recognized by the manufacturers below as a certified collision repair center.